Ferrari Philadelphia is One of Only Ten Certified Classiche Centres in the United States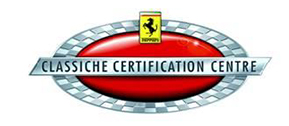 Ferrari Philadelphia is now one of only ten Authorized Classiche Centres in the United States. Ferrari Philadelphia was nominated based on our past performance in working on historic Ferrari Classiche vehicles. As North America's #1 rated After Sales Ferrari Dealership, Ferrari Philadelphia lets you rest assured that your Ferrari is maintained in world-class fashion.
The Ferrari Classiche Certification Program was introduced to allow Ferrari clients to obtain a document from Ferrari that officially establishes the authenticity of their cars. To be eligible for certification your Ferrari must be at least 20 years of age, or any racing car (non-road car) regardless of age. The Certification Committee is is chaired by Engineer Piero Ferrari who  works with three to four other technicians and historians on each car.
The car will only be deemed authentic if, in addition to being in total working order, inspections performed by Ferrari show that all the Chassis, Engine, Gearbox/Transmission, Suspension/Brakes/Wheels and Bodywork/Interior are all original. Any Ferrari without original parts will be judged on a case by case basis at Ferrari SpA's discretion. For example, a non original engine that has been replaced with an engine of the same type may still be certified.
Call us today at 610-527-1100 to find out how you can take advantage of the Ferrari Classiche Program!